he popular mobile MOBA game in the country. In addition to the new hero, there are some other changes that you must know. Well, following I will review the full update Mobile Legends 1.2.56 which has been released on the original server.
Mobile Legends Update 1.2.56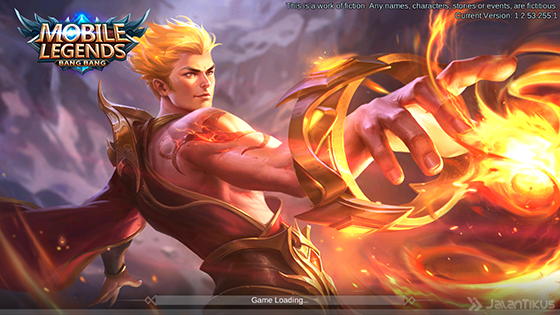 In every major update, Mobile Legends always brings new heroes. This time there is Valir which is the Mage Mobile Legends hero that has the power of fire magic! What is the ability of this new hero?
1. Valir, Hero Mage Mobile Legends Latest with Deadly Fire Attack
Mobile Legends presents a new hero named Valir and into the Mage role. This Hero specializes Burst Damage / Poke which has a large area attack and damage. Well to get this new Mobile Legends hero, you can buy it by using 32,000 Battle Point or 599 Diamond. In the first week of release, you'll get a 30% discount!
Here is a row of Valir Mobile Legends skill:
Passive Skill Valir: Arcane Flame
Skill 1 Valir: Burst Fire
Skill 2 Valir: Searing Torrent
Ultimate Skill Valir: Hellfire
2. Free Hero Rotation
8 free hero in server time 02/03/2018 05:01:00 – 09/03/2018 05:00:00: Alucard, Eudora, Rafaela, Alpha, Yi Sun-shin, Johnson, Vexana, and Karrie.
6 additional free heroes for Starlight Member: Hayabusa, Moskov, Hilda, Gatotkaca, Argus and Odette.
8 free hero in server time 09/03/2018 05:01:00 – 16/03/2018 05:00:00: Franco, Rafaela, Layla, Minotaur, Hayabusa, Ruby, Irithel, and Grock.
6 additional free heroes for Starlight Member: Fanny, Sun, Estes, Karrie, Lapu-Lapu and Harley.
8 free hero in server time 16/03/2018 05:01:00 – 23/03/2018 05:00:00: Akai, Bane, Eudora, Gord, Alpha, Estes, Roger and Harley.
6 additional free heroes for Starlight Member: Lolita, Chou, Yi Sun-shin, Aurora, Grock and Diggie.
8 free hero in server time 23/03/2018 05:01:00 – 30/03/2018 05:00:00: Franco, Clint, Lolita, Sun, Kagura, Hilda, Lapu-Lapu and Irithel.
6 additional free heroes for Starlight Member: Argus, Ruby, Cyclops, Vexana, Roger and Hylos.
8 heroes free in server time 30/03/2018 05:01:00 – 06/04/2018 05:00:00: Karina, Bruno, Eudora, Zilong, Chou, Moskov, Cyclops and Gatotkaca.
6 additional free heroes for Starlight Member: Alice, Natalia, Johnson, Aurora, Odette, and Lancelot.
3. Latest Hero Skin Mobile Legends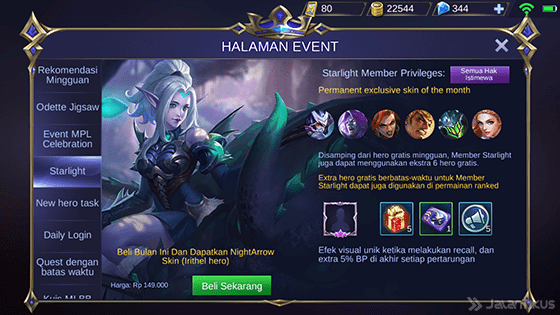 Skin Irithel Twilight Assassins can be purchased permanently by Starlight Member in March 2018.
Pale Flame Valve Skin that can be purchased for 269 Diamonds and 30% discount in the first week.
4. Mobile Hero Legends, Buff, and Nerf settings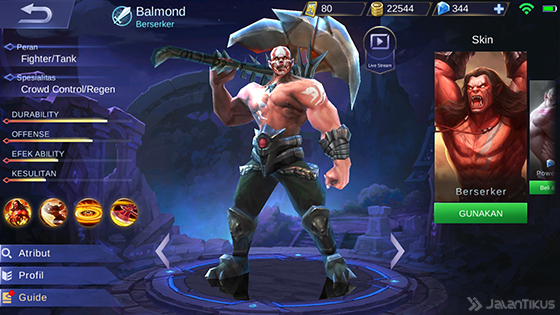 Bane, Deadly Catch skills repair when purchasing items that add Spell Vamp; Deadly Spit skills get a reduction of 10 points; Shark Bite skill provides 60% -90% damage.
Jawhead, bug fixes on Ejector skill that can throw Kagura's umbrella, Hayabusa shadow and Bane fish.
Gusion, improved the look of Sword Spike and Shadowblade Slaughter skill icons; bug fixes display Shadowblade Slaughter skill that does not show up when Gusion dies.
Diggie, Time Bomb skill when detonated will activate the item effect; Reverse Time skills get bug fixes when it comes to enemies before enabling teleport or dash skills.
Gatotkaca, Avatar of Guardian skills get animated improvements when used.
Zhask, Spawn Nightmaric skills get damage fix when Zhask dies; Spawn Nightmaric skills will experience an attack speed reduction when used in unison.
Rafaela, Light of Retribution skills get an increase in damage generated by level.
Estes, Moonlight Immersion skill adjusts which usage.
Harley, Deadly Magic skills have cooldown adjustment to be somewhat longer 32/28/24.
Balmond, base HP is reduced from 2796 to 2716; HP additions changed from 246 to 239; Lethal Counter skills produce 1300/1900/2500 damage to non-hero enemies.
Gord, Mystic Gush skill experiences a cooldown reduction when it reaches its maximum level.
Alucard, Fission Wave skill cannot be used on minion or tower when used.
Johnson, the Electromag Rays skill is adjusted for damage and will be reduced during use; reduction of HP additions from 270 to 255; bug fix when Johnson changed mode.
Angela, bug fixes when the Heartguard skill is used to make the hero team become immune to tower attacks.
Helcurt, fixes the issue of Deadly Poisoned Stinger skill that is affected by cooldown reduction.
Hylos, a Ring of Punishment skill bug fix that can be used when Hylos is exposed to control effects.
Optimize the look of hero Kagura, Ruby, Aurora, Roger, Karrie and Grock Grave Guardian skins.
5. Equipment Adjustment and Battle Spell Mobile Legends
Battle Spell Settings:
Arrival, repair distance skill use, the battle spell will be easier to use.
Battlefield settings:
Optimization of recommended equipment, tailored to the priority items already selected in the game only.
As skill level increases, skill effects will be shown on each skill button.
In Brawl mode, Ghost Mage monster will be changed base HP from 1600 to 1300, duration respawn from 45 seconds to 30 seconds and HP obtained from 20% to 25% total HP.
6. Latest Event and Mobile Legends Features
When starting the game, players can change the skill position by using the Custom Skills menu.
Spring Holiday Mode, which presents a special folder and is present at the end of March. To play it, players must reach at least level 9.
7. Mobile Legends System Adjustment
Regulatory changes to in-game live streaming functionality.
When you reach level 30 and complete Daily Quests, the added exp is changed to Emblem Fragments.
Optimize animation effects when purchasing items in Brawl mode.
Added effects on Tickets and Battle Point on the main page.
Optimize the look of heroes in the Outbound mode.
Optimize the display of floating text in the game.
Optimize Skill Description view in the game with feature skill.
Optimize view of season achievement.
Optimize when the season is over, players reset rank will be given one star in the initial rank range in the new season.
Optimize the selection of players in Classic mode to find suitable and balanced players.
Hero Trial Card and Skin Trial Card will have different borders.
When logged in and constrained network, pop-up notifications will appear to check the internet network used.
Adjustment of Achievement Level Rewards by increasing Marksman Emblem Fragment.
When a player does not choose heroes, the system will give the most hero ever played and not yet taken.
Hero Power will be calculated at the same time as the season's results.
When reaching the maximum level, Double Exp Card will get Ticket when used.
8. Bug Mobile Legends Repair
Fixed a bug when not able to invite friends after loading room.
Improved Lesley display in Low display mode.
Repair the system where the skin of the Fragment Store cannot be rewarded.