FF Giving Free Characters, How come they don't exist in Indonesia?
This August is a very special month for Garena and Free Fire as well, as the battle royale game will celebrate their 3rd anniversary. As a token of gratitude to FF players who have supported this game, Free Fire has held a free character sharing event.
But unfortunately, this festive event cannot be found in Indonesia, but only held in India! Of course this is a very disappointing thing for FF players in Indonesia.
In this article SPIN Esports will discuss the Free Fire birthday event and the reasons why this event does not exist in Indonesia.
Event Share Posting for free characters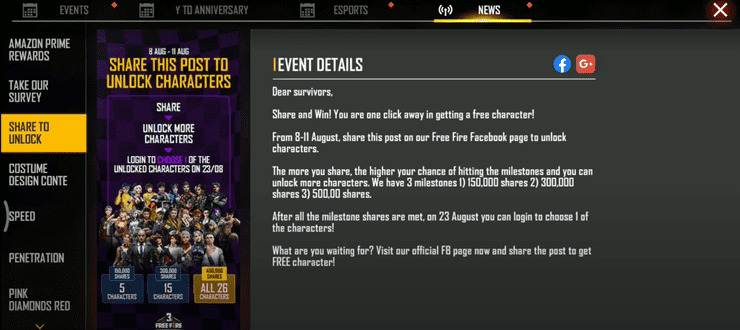 This free FF character sharing event was announced on the official Garena Free Fire fanpage on Facebook. The mission of the Indian FF players is to share the post and you will be able to unlock 1 FF character for free if the specified target and time can be achieved.
These are the goals that all FF players must achieve:
If the post grabs 150,000 shares = 5 Characters Open
If the post grabs 300,000 shares = 5 Characters Open
If the post grabs 400,000 shares = 5 Characters Open
This event is held on August 8th and players must be able to reach the target share before August 11th. And unsurprisingly, that target was achieved in less than 1 day. Indian FF players seem very excited about the opportunity to get the Free Fire characters they want for free.
Why is it not in Indonesia?
The absence of a FF character sharing event in Indonesia will certainly make many Indonesian FF players disappointed.
Garena did not state the reason why the free FF character sharing event was exclusive to India and not held in Indonesia. But at the same time, Free Fire is holding an event Booyah Merdeka specifically in Indonesia to celebrate Indonesia's 75th Independence Day!
The Booyah Merdeka event will take place from 9 August to 17 August 2020, and there will be many web events where players can get lots of attractive free prizes!
Besides that, Booyah.co.id also gave a leak that FF players will be able to try the latest FF map, Bermuda 2.0 this August!
Also Read: Leaked Release Date for Map FF Bermuda 2.0, Soon!
Certainly the free character sharing event is very interesting, especially if you have the freedom to choose 1 of the 26 available FF characters. Even so, the Booyah Merdeka event itself will give you lots of cool prizes that are no less exciting!
Don't forget to keep visiting website us, to get the latest eSports news and follow it Facebook we!